LITTLE JOY QUEER NIGHT QUEERLY NOT SO QUEER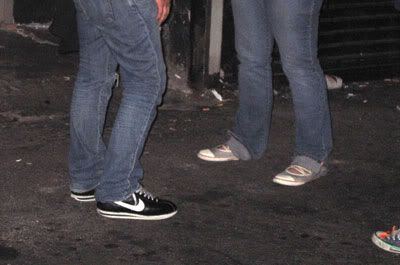 Ahh yes, the heat brought out something terrible this last Sunday at the Little Joy "Dive" Bar in Echo Park. That bar on the corner across from the deserted green-pumped gas station. That bar with duct tape quilting the tears in the beige vinyl booths, all two of them. Decrepit red and cracked Budweiser signs over the two pool tables, air all smoky because thank fucking god you can smoke in there and smoke they (we) do. But alas, despite the welcoming locale, the heat brought out tourists and kept the queers at home. Rather upsetting if you ask me. See, Sunday night is unofficially Queer Night or Gay Night at said bar. If you want to take the name of the night from the message scrawled on the girls' bathroom wall, it's gay night. But everyone there is so ambiguous it's better to call it queer night. Call it what you will, actually. Actually.
So we went, myself and a few friends, expecting a queer hipster bastion (note… I'm not a separatist, one of my best friends is absolutely heterosexual and I consider him queer). What we got was, well, something else. Metrosexuals and wide-eyed strangers who get rent from daddy (one girl told me) and who do something uninteresting with dvd packaging (this guy, this guy). "Do you come here often," daddy's little girl asked me.
"I come here… more often lately. I guess," I said.
"So what goes on?"
"Well tonight is queer night, unofficially," I said. Or perhaps I said it was gay night, I was too many whiskies in to have full reign over my retention of verbiage spoken, verbiage thought. I don't even know how I knew, how I know Sunday is queer night. I could be wrong. But daddy's little olive skinned, black haired girl kind of cringed, quickly, then said, "well I have an open mind." Oh you do, do you? That's wonderful. What does that mean, missus? What does that mean? Must you so quickly differentiate yourself from the theme of the night? I don't care. No one cares.
My friend K later went to the restroom where the graffiti on the wall proclaims this evening what it might or might not be. She was in there when this girl reads it aloud and starts frantically asking K, "so tonight's gay night?" With distaste she asks. Asserting her non gayness. Her vague disgust at the concept. Then another girl enters and she says, "you know it's gay night. It's gay night." Or queer night or whatever. When she enters the smoky bar proper, she'll look at all the, what she thought were metrosexual boys, and see fags, fags, fags who don't want you you hag! She'll look at all the cool, angular subtly eightiesed out girls and think, dykes, dykes, you're all dykes and no I'm not interested. Guess what honey, the heat kept the queers at home or at least away from here but if they were dykes, and if they were here, they'd laugh at you… ha ha ha ha ha ha ha ha ha!!!!!!!!!!!!!!!