SUNSET JUNK TON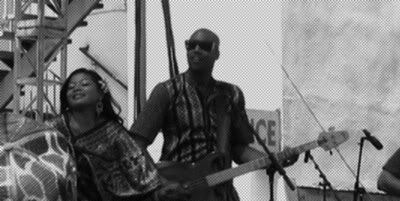 Sunset Junction Street Fair 2004. The 24th Annual commingling of hipsters and fags and dykes commenced with hazy skies. Early arrivers thought, for once, we won't get scorched by the omnipresent sun pummeling from above and upper-cutting from the wet-hot cement below. Then, the cock-teasing haze gave way to the sun's full force. No one was surprised. Pale, indie rock skin turned red and not for the sake of a blush.
Myth states that the fair began on the year of this reporter's birth, to bring the disparate Homo and Vato entities of LA's Eastside—specifically Silverlake which, I might add, has always been dubbed as cool—together in reverie. It might well have achieved that this weekend, but it's doubtful.
Best Vendor:
Utili-kilts. No explanation necessary.
Best Band:
Dengue Fever
(pictured above). Though this reporter can only judge the bands he saw and he saw to it that he saw very few, he can doubt that any band surpassed the Deng. Fronted by a diminutive Indian woman who sang like a peasant at a Bollywood open casting, with some middle eastern variation on a burnout all bearded and turbaned on guitar, a tall black bassist (big surprise) who moonlights in this other LA jewel of a band called the Radar Bros., and most importantly, the white boys on keyboards, drums, and sax/flute.This band is an embodied LA metaphor. The wasps' proficiency peppered by ethnic flair. It's the perfect musical ensemble for the white man with the taste for spice but who likes his ethnic food on clean tables (analogous the the 4/4 beats proffered by the pasty drummer). The singer was incomprehensible, but oh so beautiful, wow, amazing, the cultures colliding, I feel nourished. You get the point. All irony aside, they were good. And ooooooooh so multi-ethnic.
Biggest Spectacle:
Quadriplegic, obviously wheelchair bound, blonde wigged, tranny decked out like a beauty queen in the throws of the evening gown competition. Rumor has it, she haunts lesbian bars and harasses straight men out of sheer bitterness and self-hatred. This isn't really a rumor or a joke but no one would believe it, so yeah, it's a rumor.
Staple:
The large, dark skinned, big bellied, vague-ethnicitied man in only long-johns, long strings of black hair flailing as he danced, naturally, to every band playing the rock stage. Same as last year. Same as the year before. He only exists one weekend of the year.
Best Food:
The foot long spicy sausage plunged firmly into the welcoming slit of a near-loaf of bread, slathered with onions, kraut, ketchup and mustard and deep throated by this reporter at that point lost in a vodka-beer binge and hurting from the heat, olive skin gone bronze, weary.
Best Moment:
Subjective. Mine was wandering alone, ditched for some lesbians by my best friend, flanked by hundreds of thousands of people and never feeling more alone. The loneliness of crowds; an incubator for catharsis (which is always subtle if it's actual).
Most Ambiguous Moment:
The street fair exists on a strip of Sunset Blvd that includes the now monolithic shrine to suicided rock star, Elliott Smith, the curved lines painted on a wall, now dappled with lyrics and notes from grieving fans. The sidewalk below still bears flowers and candles nearly a year after his death. The second morning of the Fair, Sunday, after the hard-core collective debauch, the squealing and hanging from billboards, the coke-dicey gallivanting, the false feeling of collectivity, the wake of all this left the word "Coward" in gray spray-paint over the wall of Elliott Smith Remembrance. Who's the coward, I wonder? Seems that it takes a lot of bravery to voluntarily and prematurely extricate oneself from this addled swamp we call life. I could be wrong. Perhaps "Absurdist" would have been more appropriate, but then I doubt our feeble yet bold vandals read much Camus. Or maybe that angered citizen is right? Or maybe he who wrote it (the gender is a guess but the paradox of sneaking into the night to make bold statements unseen, this stinks of maleness) is so hardcore, so deep into the underground, he had to express his truth at the flashpoint moment when the most LA hipsters would be congregated, sticky, stoned, fashion victims figuratively (because they care) and literally (because angular hair and ironic 80s clothes don't mix with the summer sun). Who's right? Fuck all. All's wrong and Street Fairs are for the philistine masses.
Thanks Silverlake for closing down the main road-artery for the entire weekend, cloistering a bunch of people who would rather have the autonomy their cars and wallets and privilege have afforded them every other weekend of the year. Thanks. A vodka-sausage belch to an annual reason to lasciviously cruise during the day, the reason for Kieffer Sutherland to walk as if he's a regular dude, the reason for the crazy rock stage emcee lady, who too only appears one weekend a year, bleach blonde, haggard, all motley dressed in neon yellows and a poly-poly blend of melted faux pas, screaming, squealing, to be precise, "Ooooahhhheeeeww! Hey everybody. Yeah! It's Sunset Junciton! Eeeeewahhhhheeeeew!" Choke on your screetches, woman. I bet they don't even pay you to go on stage and vomit your invisible pride, year after year, into the vacant faces of a community that just moved here from Kentucky, like seven months ago. Ha!