I Forgot to Tell You About This Explosion in April. A Guy Died.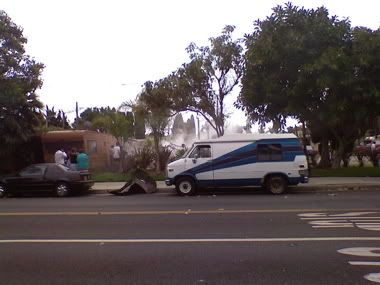 The Santa Monica Police Dept.
press release
about the incident I photographed above:
EXPLOSION AT 1930 STEWART STREET
April 22, 2007

At about 3:53 PM Sunday, April 22, 2007, Officers from the Santa Monica Police Department responded to reports of an explosion and fire at the mobile home park located at 1930 Stewart Street. Upon their arrival, the officers found a male victim with critical injuries near a vehicle which was completely destroyed. The victim was treated at the scene by Santa Monica Fire Department paramedics and transported to the trauma center at UCLA Medical Center in Westwood, where he later died. The victim's name is being withheld, pending notification of his next of kin.