Krylon's Last Stand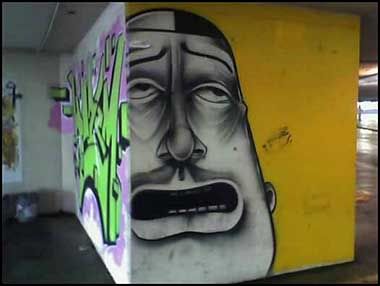 A friend sent in this picture from his camera phone of the LACMA parking garage today, doomsday for the lot-to-be-no-more (see post below). He characterized the lot he had to sneak into as a "grafitti pit." But the efforts of the spray painters, taggers, poster boys and girls was "beautiful. It was beautiful. Everyone should see this." Evidently every inch of the lot was covered save for the McGee and Kilgallen commisioned pieces. Notice in the picture (above) the graffiti on the left and McGee's work on the right. New and old. And both, likely, demolished by now.
This week saw some lovely media/blog chatter on this subject:
>>The
LA Times
ran an
Op-Ed
by Tyler Green Monday. (heads up from
LA.comfidential
's post on the matter monday as well).
>> And
art.blogging.la
has summarized a
two
part
post by
LA Citybeat
art editor Natalie Nichols wherein she chronicles the demise. In part two Nichols describes textually what is represented in the picture below. In this case, a picture is worth 79 words.