Jesus is SO Last Century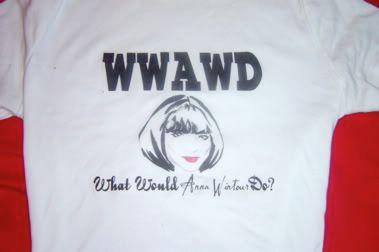 So I saw this girl Amy wearing the above shirt and I nearly lost my mind. Why not live life through the moral lens of Anna? Ask yourself:
Is it FUR? Will it look good on ME? Is he or is he not more adorable than those Proenza Schouler demigod designer boys? NO ONE'S MORE ADORABLE THAN THOSE PROENZA SCHOULER BOYS!!!!!
>> end Anna Wintour interior monologue now please thanks
The shirt is a call to arms, an incitement for all who bear witness to it to really think about how well or shoddily they're put together. No one CARES what Jesus would do anymore. Jesus is definately OUT. It's all about Anna. C'mon, the President's into Jesus. Once the MAN, the true, true apotheosis of the MAN is into something, it can't be cool. Am I wrong? Look what the President owning an iPod did for that device's cachet. Turns out Amy (who's living in Long Beach on summer break from NYU), along with her friend Michael, made the shirt and they're selling them! $25 via paypal (that includes shipping). Just email: thehatdude@yahoo.com